Welcome to Eclectic by Nature!
If you were to walk in the door of the physical shop Eclectic By Nature me (aka Tavane) or Karen would welcome you and offer you a cup of tea. Here in the virtual shop I hope you feel just as welcome to browse, ask questions, offer comments and enjoy yourself with a cup of tea of your own making. Eclectic By Nature is a full-line store that specializes in Earth Spirituality products. This includes Metaphysics, Wicca, Paganism, Shamanism, Vodou and Hoodoo, Aromatherapy, Herbal Healing, Reiki, Huna and more.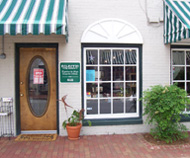 In June of 2005 we moved from downtown to State Street. We have moved into ever-larger locations on State Street three times and are now located at 414 State Street. This location offers more space, sidewalk seating and free parking. State Street offers a variety of shops, restaurants and services including the State Street Center for Renewal, our neighbors upstairs. Click here for a map, directions and our store hours.
The links to the left will lead you to the online internet store. Make sure to sign-up for the Eclectic Events Newsletter.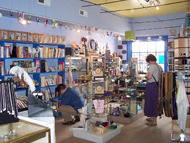 There's always something happening at the shop: readings, classes and other fun get-togethers. Please visit the Events Calendar to see what's coming up at the shop and in the area. A sampling of the merchandise that is sold in the shop is listed in the Online Store. If you don't see something you're looking for, please contact me as I am happy to special order items at no additional charge. Be sure to check out the Practical Magic section for interesting spells and recipes, information on herbs and gemstones, as well as other eclectic tidbits of information.
I am always interested in hearing from vendors/artists about their merchandise. We are always looking for NEW lines of merchandise to carry in the on-line store and in the store in Greensboro, North Carolina. I enjoy seeing any and all items related to Earth Spirituality, Paganism, Wicca, Herbalism, and the gift industry in general. I take great pleasure in supporting artists both near and far. My only requirements are that you sell quality merchandise at reasonable wholesale prices. If this sounds like your company, please consider sending a copy of your catalog or descriptions of your merchandise to the above mailing address.

Thank you for taking the time to stop by. Please come back again soon. Namaste.
- Tavane Taylor, Proprietress